20 years of Securing eCommerce shopping against Fraud and still Innovating
Do you remember what you were doing 20 years ago? Were you selling merchandise or even shopping online yet? Most people were focused on whether the world was going to end with a Y2K technology meltdown.
What many of us overlooked in 2000 was that the ways in which we engaged with businesses changed dramatically. Alibaba.com had just been founded in April of 1999, Amazon was starting to explore selling more toys and merchandise online and had introduced one-click shopping, and Walmart set up their very first website. Mobile phones, which had been looked at as unnecessary jewelry meant for showing off, started to take off and emerge as an everyday life shopping necessity. The gaming world started to be revolutionized with Sony's release of the PlayStation 2 gaming console and Nintendo's Game Boy, with both becoming the rage and planting the seed for microtransactions and in-game purchasing. Also, although U.S. eCommerce sales started to grow to over $27 Billion, the EU led the way in seeing this transformation and initiated and adopted the e-Commerce Directive.
eCommerce has been on a 20-year journey. It's dramatically changed the ways we engage online, and every step of the way, Outseer has been innovating new ways to secure and drive industry standards.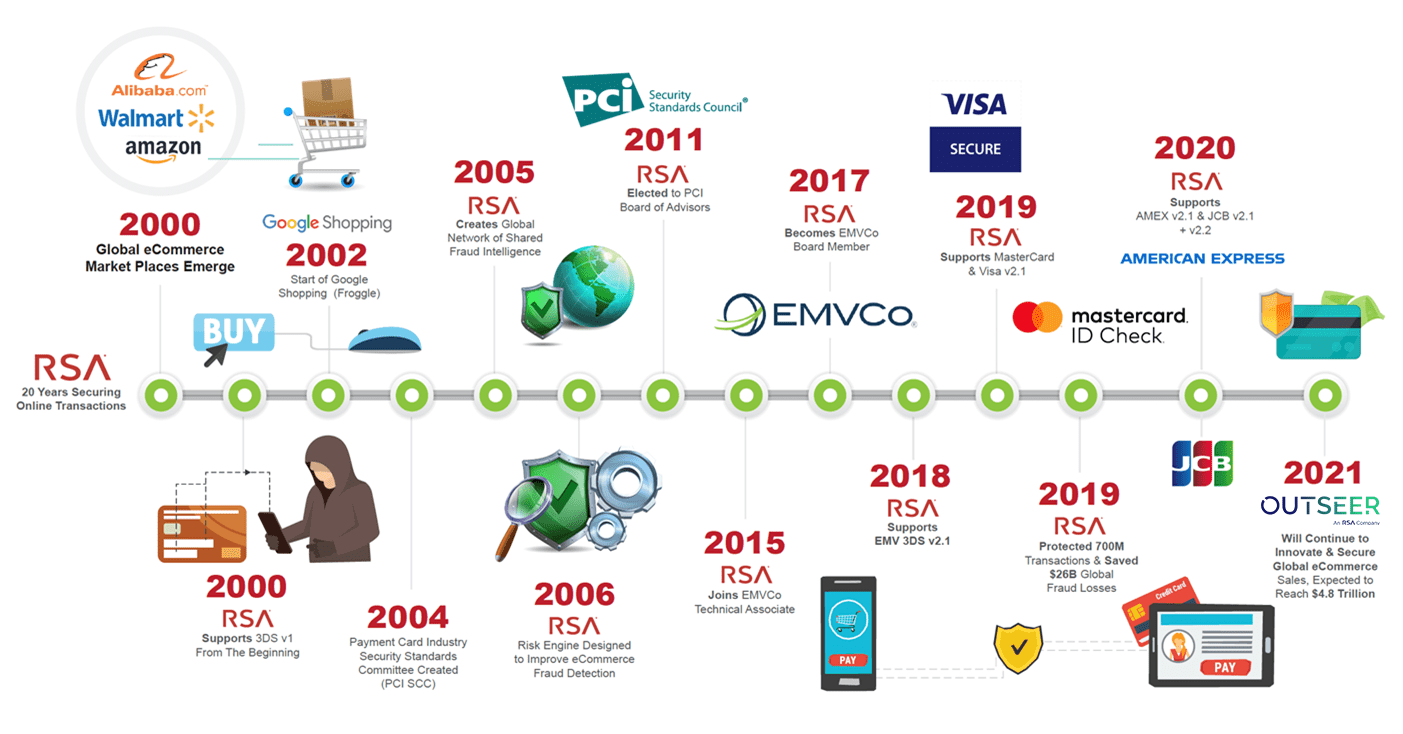 Now, almost every business has some type of eCommerce capabilities and the pandemic has catapulted our eCommerce engagement even more. Just in the second quarter of 2020, U.S. consumers spent over $211.5 billion online, with eCommerce sales up 31.8% from the previous quarter. And Global eCommerce sales are expected to reach $4.8 trillion by 2021.
As we enter the holiday shopping season this year, the notion of Black Friday and Cyber Monday (BFCM) has disappeared and reemerged in full force as a "cyber season". It is forecasted that eCommerce sales will grow almost 35% year-over-year and are expected to generate between $182-$196 billion just during the holiday shopping season. As eCommerce transactions are on the rise and expected to grow even more over the next six weeks, trusted and secure online shopping will drive increased revenue for card issuers and merchants in a time when organizations need it most.
As card issuers, payment processors and retailers rapidly adapt to meet these demands, they are faced with the challenge of managing the surge of eCommerce transactions, technology innovations, and the corresponding rise of card-not-present (CNP) fraud, which is expected to reach $6.4 billion by 2021 in the U.S., according to Aite Group.
Just in 2019 alone, Outseer protected 700 million transactions and saved organizations $26 billion in global eCommerce CNP fraud losses
How Outseer 3-D Secure can help boost revenue and improve customer experience
Outseer closely monitors these emerging threat vectors and is committed to continuously help modernize, simplify and secure the future of trusted digital payments and shopping experience for card issuers, merchants and consumers. We actively participate in numerous associations, including PCI SSC Board of Advisors, EMVCo Technical Board, FS-ISAC, FIDO Board, NACHA Alliance leadership, Anti-Phishing Workgroup, UK Finance, and NIST NCOE. Most recently, Outseer engaged to help modernize 3-D Secure and was one of the first Access Control Servers certified to support EMV 3-D Secure version 2.2 protocol.
The increase in legitimate CNP transactions has caused an increase in fraud. Leveraging EMV®3-D Secure enables card issuers and merchants to mitigate fraud losses and drive more revenue by decreasing cart abandonment for merchants, improving both brand loyalty and consumer spending; more successful transactions also mean more interchange fees for issuers. Outseer 3-D Secure is a one-stop shop solution to help protect CNP transactions that go through the EMV 3-DS eco system. Card Issuers can use Outseer 3-D Secure as an ACS (Authentication Control Server) for VISA, Mastercard, AMEX & JCB cards, and benefit from best-in-class fraud detection with low intervention rates.
Outseer 3-D Secure leverages advanced machine learning to analyze hundreds of risk indicators and silently authenticate genuine cardholders while challenging only the small number of high-risk transactions. Our customers also benefit from participating in the Outseer Global Data Network, an international fraud community that shares intelligence on fraudulent entities across countries and customers.
With over 20 years of securing the eCommerce shopping world, we look forward to helping ensure you all have a safe holiday shopping experience again this year.
Check out Top Reasons to Adopt EMV 3-D Secure.